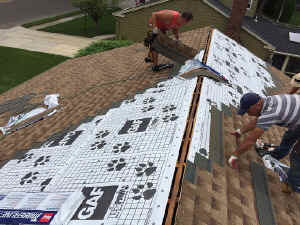 Roofing Service in Deptford Township NJ.
Call AM Construction (856) 322-8400 for a Free Quote.
Best Prices, Service and Warranty.
Phone us (856) 322-8400 for asphalt shingles, tile, cedar shake, and flat roof services.
We Offer Some Of The Best Prices, Plus Service & Warranty.
Our services have five major categories. These includes: roof examination, roof maintenance, roof repair, roof installation and also new construction.
Inspection – Inspection is even offered free, with an estimate and also information on the condition of the roof and needed repairs.
Maintenance – Patching minor issues is a sure way of sustaining roof's condition as it will worsen if left undone.
Repair – Power vent, chimney leak, replacing broken or damaged shingles, valley leak, remove and change rotten wood, leaking flat roof, vent pipes, gutters are probably the parts that could be installed and changed.
Replacement and New roofing construction – we'll advise you about how you need to know so far as lifespan of the material you plan on using, the weather conditions in your area and also the design of the material. With the proper assistance of our experts and experienced roofing contractors, you'll be guaranteed to get the right choice on each new roofing set up.
Call Us for Deptford Township Hill Roof Repair and Replacement Quotes
Our company has been in the roofing business for 35+ years.
If you select our firm expect:
no hidden costs or materials,
we can work with your insurance coverage
workmanship warranty is offered
references could be given
everything will be convenient and easy for you.
We are Local Cherry Hill NJ Roofers Proudly Offering Premium Services at The Very Best Prices Possible
Call AM Construction (856) 322-8400 Now