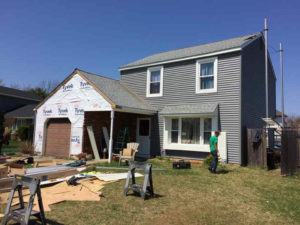 AM Construction offers high-quality work and competitive rates.
We offer free estimates
and convenient appointments,
so it's easy to see how great your home can look with new siding.
Call us now (856) 769-9918
Your siding can make or break how your house looks. If the siding is worn and damaged, then it will drag down the value of your home.
You can maintain your home's value and keep it looking great by working with AM Construction when the time comes.
We offer the highest quality workmanship and premium products so that you can boost your curb appeal even while protecting your house from the elements.
Call us now for a Free Siding Quote (856) 769-9918
We install siding from well-known manufacturers who offer good warranties. Siding is available in a range of textures, colors, and styles.
Siding is also available in different materials. Each option has advantages and disadvantages that needs to be discussed with an experienced siding contractor, such as AM Construction.
Call us now for a Free Siding Quote (856) 769-9918
Our experience within the industry is unmatched, and we provide the competitive pricing that any budget can work well with.
We offer all clients free estimates for their residential or commercial siding needs.Whether you need vinyl siding, aluminum siding, steel siding, hardie siding or fiber cement siding, we will accommodate your needs.
Highly experienced
Fully licensed and insured
Locally owned and operated
Punctual and professional crews
Complete cleanup services
Free quotes and fair pricing
Siding in New Deep Colors
Soffit and Fascia
Call us now (856) 769-9918