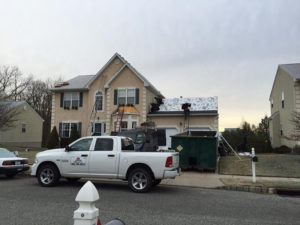 Affordable and reliable roofers in Mantua, NJ.
Call AM Construction (856) 322-8400 for a Free Quote.
Best Prices, Service and Warranty.
Locally Owned Plus 35+ Years Experience.
At AM Construction, we provide expert repair and replacement services at prices you'll be able to afford.
We have more than 35 extensive experience within the roofing business, and have an exemplary record of serving and satisfying hundreds of families in the Mantua NJ local area.
Call us today for a roofing repair or replacement quote in Mantua (856) 322-8400
Most homeowners are not giving their roof enough attention when they should have since it is a very important protective structures. This becomes a concern for most when water stains and other indications of leakage are seen. Interventions should be carried out immediately before these issues limit the roof's lifespan. Opting for a scheduled maintenance and evaluation is still a wiser move because with these services, you can be certain that any difficulties are avoided or resolved before they trigger any severe damage.
There are five key classifications of roofing services our business provides. These includes: roof inspection, roof upkeep, roof repair, roof installation and new construction.
– Conducting inspection and upkeep on the roof twice a year will do, according to the National Contractors Association (NRCA). The finest time for roof inspection would be somewhere between late spring and autumn fall because the roof is more likely to sustain serious damage is during winter. Restoration of minor issues before they intensify is already incorporated in the maintenance service. Inspection is even provided by several contractors and companies as a free roofing service with an estimate and particulars on the situation of the roof and required repairs.
– Mantua Roof repair includes minor to major problems like chimney leak, vents on ridge, valley leak, busted or cracked shingle replacement, replacement and removal of rotten wood, vent pipes, gutters, leaking flat roof repair and the likes.
– For homes found to United State areas that are typically hit by bad weather and calamities, roof repair or replacement is vital. When having your roof replaced, it would be ideal to look for a professional company like AM Construction that provides roofing services with a written warranty on workmanship and or materials. A precisely done replacement can not only improve the longevity and durability of your new roof but boost the general appeal of your house as well.
There are numerous things that must be taken into account when it comes to the construction of new roofing, which involves the life span and design of material to be used along with the weather that you are consistently experiencing in your town. If you want your roofing installation to be successful and satisfactory, you have to get the aid of an experienced roofing service provider.
It is quite a challenge to search for a reputable roofing company that can provide you with quality roofing services like AM Construction, so you need to be cautious with your search and consider the money you are going to pay for every service made, make it worth the cost. No hidden costs or materials, we have insurance, offer great workmanship warranty, examine our references, and hire somebody that makes you feel comfortable.
Call us today for a free quote: roofing repair or replacement for your home in Mantua NJ (856) 322-8400
AM Construction Co. the affordable and reliable roofing contractor serving home owners in Mantua Township, New Jersey 08051 and surrounding areas.

Mantua New Jersey Home Improvement Services:
Mantua Roofing, Mantua roof repair, Mantua Siding, Mantua Window and door replacement
Average rating:
1 reviews
Jan 25, 2017
Definitely recommend AM Construction Co.
Love the look of our new roof! We were very happy with how quickly the work was done and the cleanup of the job! Definitely recommend AM!