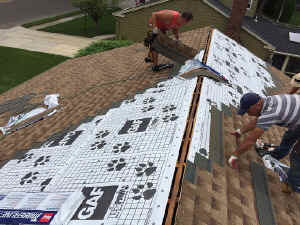 #1 Evesham Township Roofing Service Contractor
Call AM Construction (856) 322-8400 for a Free Quote.
Best Prices, Service and Warranty.
Local Roofers plus 35+ years of service.
The most important component in your home is the roof as it may serve as protection for the entire structure, however it is often overlooked.
Don't wait until unsightly water stains along with other signs of leakage are observed, since this can greatly increase the repair or replacement cost.
Call AM Construction (856) 322-8400 for a Free Quote for your Evesham home.
Roofing services may be categorized into these major categories. These are roof assessment and inspection, roof routine maintenance, roof restoration, or brand new installation.
Roof inspection – Inspection is a roofing service provided for free with an approximate and details on the roof's condition and also the required repairs to be carried out. As winter seasons prove to be the toughest time on roofs, the ideal time to stage an inspection are late spring as well as autumnal fall.
Roof maintenance – Not being able to patch minor difficulties of the roof will likely make it even worse.
Roof repair – Power vent, chimney leak, replacing broken or damaged shingles, valley leak, remove as well as change rotten wood, leaking flat roof, vent pipes, gutters are probably the parts which can be set up and replaced.
Roof replacement – For US homes situated in areas where severe weather conditions and calamities commonly happen, this ought to be done. Roofing services with a written warranty on workmanship and materials are given by our firm.
New roofing construction – we'll give you advice about how you must know as far as lifespan of the material you plan on making use of, the climate conditions in your community and also the design of the material. With the right guidance of our professionals and skilled roofing installers, you'll be guaranteed to have the right option on every new roofing installation.
Our firm has been in the industry for quite a while. With us there aren't any hidden costs or materials, we could work with your insurance, provide a workmanship warranty, can offer references, and make you feel at ease.
Call for a Free Roof Replacement or Repair Quote (856) 322-8400.
Serving Evesham Township, NJ 08053

Average rating:
1 reviews
Feb 20, 2017
Very professional
I had a new roof installed by AM Construction Co. and they were very professional and did an outstanding job cleaning up after the job was complete. I highly recommend them and would use their services again.