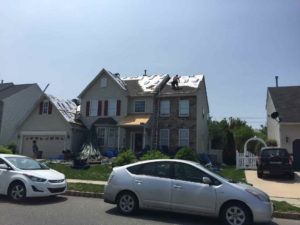 Roof installation and repair Quotes in Cherry Hill, South Jersey. Simply call us (856) 322-8400 today.
Best Prices, Service and Warranty.
Locally Owned Plus 35+ Years Experience.
All our employees are continually instructed all year long to supply superior & friendly services and receive training for the newest products and services, techniques, and technologies in the roofing industry.
Licensed, Insured, 35 + Years Experience
We utilize the newest techniques and equipment in roof repair and replacement projects.
Asphalt
Fiberglass Shingles
Slate
Roof Repairs
Roof Replacement
Waterproof Coatings
Built Up Roofing
Skylight Installation
Roofing Contractor Cherry Hill NJ
We are also are specialists in storm damage repair services from hail plus wind, and offering direction through the entire insurance claims procedure. Our experts can pinpoint any type of damage, and advise for you personally while coping with your insurance company.
We are Cherry Hill NJ Roofers Providing Premium Services at Very Affordable Prices
Serving Cherry Hill NJ 08002, 08003, 08034 along with its surrounding communities.

Average rating:
1 reviews
Aug 4, 2017
I highly recommend A M Construction
I would highly recommend A M Construction to everyone! Owner Mike came to my house, explained everything in detail and gave me an extremely fair estimate. Less than 2 weeks later I received a call stating that workers would arrive at 7 am the next morning. Mike Sr. came the next day-at 7am with several men and the work began! By 5 pm the roof was done, looked amazing and my property was immaculate! I can only say that I was very impressed by the work ethic and professionalism displayed by this company. I will be using A M Construction again in the very near future to replace doors and windows because of their honesty, integrity and skills!