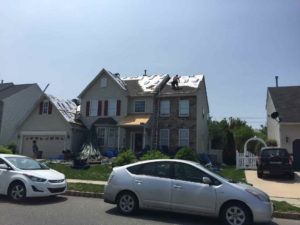 Free Roof installation and repair Quotes in Cherry Hill, South Jersey, is fast and easy with us. Simply call us (856) 322-8400 today.
Best Prices, Service and Warranty.
Locally Owned Plus 35+ Years Experience.
All our employees are continually instructed all year long to supply superior & friendly services and receive training for the newest products and services, techniques, and technologies in the roofing industry.
Our Cherry Hill Roofing pros utilize the newest techniques and equipment in roof repair and replacement projects.
Asphalt
Fiberglass Shingles
Slate
Roof Repairs
Waterproof Coatings
Built Up Roofing
Skylight Installation
We are also are specialists in storm damage repair services from hail plus wind, and offering direction through the entire insurance claims procedure. Our experts can pinpoint any type of damage, and advise for you personally while coping with your insurance company.
Serving Cherry Hill NJ 08002, 08003, 08034 along with its surrounding communities.